Education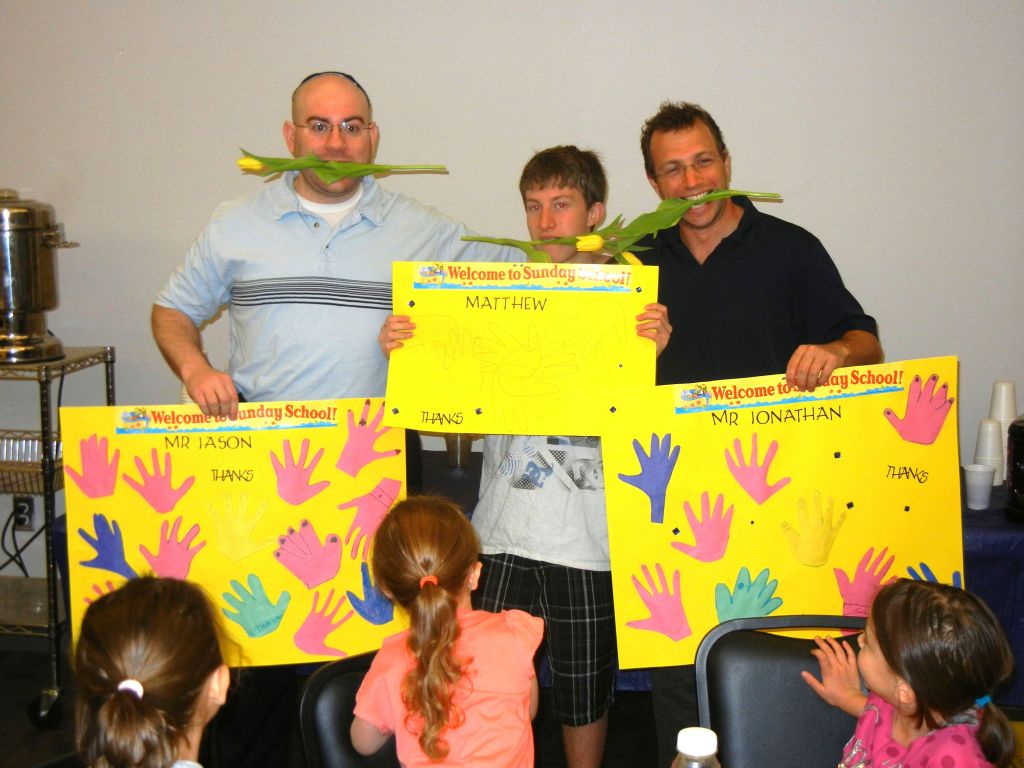 At Beth Chaverim, our goal is to offer our students the experiences, the knowledge and the tools to develop a positive Jewish identity. Our curriculum teaches a basic familiarity with and understanding of Torah, Jewish life cycle events, Jewish holidays and rituals, Jewish heritage and history, Jewish values and the Hebrew language. We strive for our students' Jewish literacy in these key areas.
We partner with the Goldring/Woldenberg Institute of Southern Jewish Life (ISJL), which supplies us with a spiraling curriculum for each grade level in ten key content areas: Community, Culture and Symbols, God, Hebrew and Prayer, Israel, Jewish History, Jewish Holidays, Jewish Lifecycle Events, Mitzvot and Jewish Values, and TaNaKh (Torah, Prophets, and Writings). The curriculum is a living process in that during the year lesson plans can be revised, rewritten, or newly written by ISJL staff to fit our needs. Each year the ISJL staff reviews and updates the curriculum to keep it fresh. Click here for more information. We also feature a music curriculum designed to teach students the prayers heard in worship services and songs of the Jewish people. All of our classes meet on Sunday mornings.
Consider joining our dedicated team of teachers! It's a great way to give back to your community. Teachers paying full dues rate are eligible for a dues credit of $15 per hour of classes taught.
Please take a look at our programs and feel free to contact us with any questions regarding education at Beth Chaverim.
Mon, May 10 2021
28 Iyar 5781
Thank you to Volunteers who Made BCRC-ADAMS Vaccine Clinic a Success!
A huge thank you to volunteers from BCRC and from our friends at the ADAMS Center who contributed their time and expertise to the BCRC-ADAMS Covid-19 vaccine clinic, which took place Sunday, April 11th!

More volunteers (both of the medical profession and non-medical profession) are needed to help community members receive a second dose on May 9th (Mother's Day). Please see the blast to sign up to volunteer for this great Mitzvah! - and for more photos from this event.
View and Contribute to our Virtual Bulletin Board!
BCRC is about COMMUNITY! Our synagogue community and the community around us!
CLICK HERE to view our Virtual Bulletin Board with community offerings.
Have something you would like to contribute to the Virtual Bulletin Board, please email the office (office@bcrcva.org)! We welcome submissions!
The Great Big Game Show!

Sunday, April 25, 4-5pm
Fun for all ages! Join your BCRC friends for a rousing Game Night... errr, Afternoon! Hosted by The Great Big Game Show Online! Try your hand at interactive, high graphic trivia games as an individual or as a team (each participant should log in on their own device). Have fun with games including Fist Bump, Face Off, and more! No need to register, just come ready to play! A zoom link will be sent on the day of the event.
Team BCRC Virtual 5K - Benefitting JCADA
Join Team BCRC in a Virtual 5k to Help Stop Domestic Violence!
Benefiting JCADA (Jewish Coalition Against Domestic Abuse)
JCADA provides trauma-informed care for victims of domestic abuse, and is hosting a Virtual 5K Fundraiser! Join team BCRC by donating and pledging to take part! You may run, walk, or bike a 5k on your own, or safely with friends and family, and log your activities online! Not up for a 5K? Try 5 bench presses, 5 burpees, 5 jumping jacks, or any activity you choose!
Click here to sign up with Team BCRC, and consider sending photos to the office to be shared on BCRC's Virtual Bulletin Board! (the sign up link is to the right of the page.)
Today's Calendar
---
This week's Torah portion is

Parashat B'midbar
Yom Y'rushalayim
View Calendar
Contact Us!
Beth Chaverim Reform Congregation
21740 Beaumeade Circle, Suite 100
Ashburn, VA 20147
(703) 729-1659
office@bcrcva.org
Mon, May 10 2021 28 Iyar 5781