About Us
Beth Chaverim is Hebrew for 'House of Friends'. We are the only Reform Jewish congregation in Loudoun County - located about 30 miles west of Washington, D.C. We welcome and meet the needs of families of diverse backgrounds. We offer a variety of services and programs to encourage participation on many levels. Whether you are single, married or divorced, young, empty nesters, or seniors, we welcome you to our "House of Friends"!
We invite you to come in and meet our welcoming community, tour our synagogue, ask about how to participate in current online events, and learn why Beth Chaverim is a community that will give you everything you want in a religious home and MORE. Contact us to see how you can become part of our House of Friends!
We are Building a House of Friends, One Family at a Time, By Creating a Welcoming Jewish Home for a Diverse Community.
Our History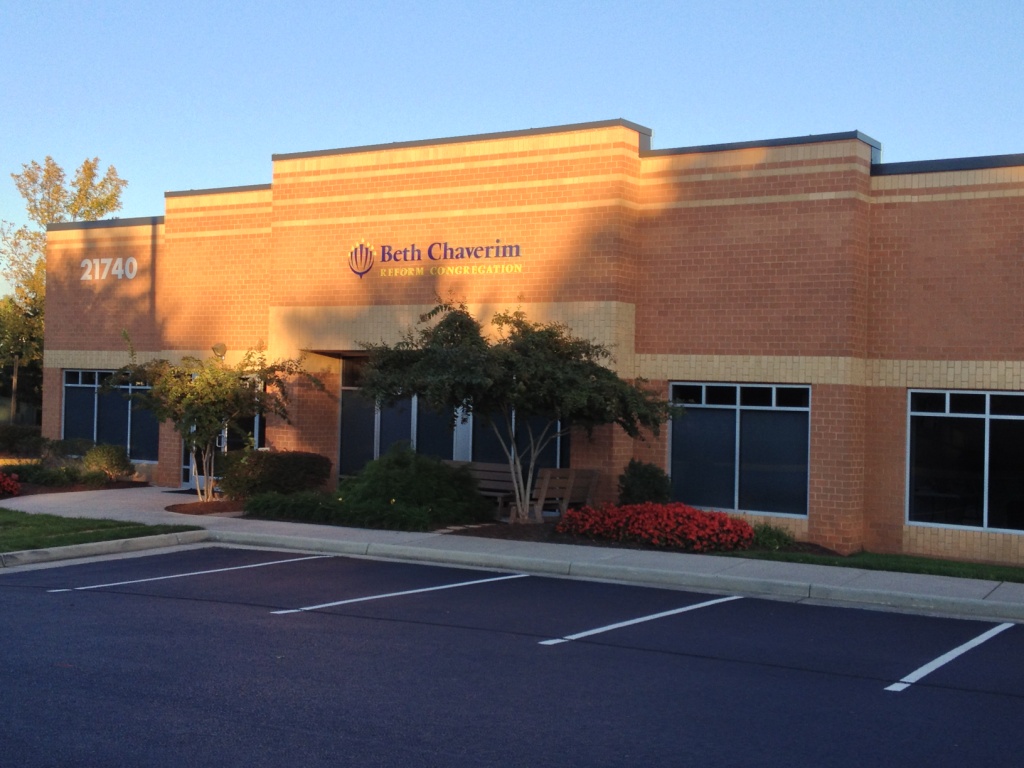 1997 - Founded by 5 families looking for place to celebrate their Judaism and educate their children in a liberal Jewish setting. First services held at local Ruritan Club and member homes and led by a visiting rabbinical student.
1998 - Hired student rabbi and established a home for religious school. Continued to hold services at rotating locations.
2005 - A property to purchase was identified and the congregation decided to pursue the opportunity to find a permanent home.

2007 – After a period of significant growth, BCRC moved into its first permanent congregational home in Ashburn VA.
2010 – Hired our first full-time rabbi.
2018 - Temple trip to Israel.
2022 - Began celebrating our 25th anniversary, which is still ongoing!
Today - Today, we carry on our entrepreneurial legacy with substance, vitality and vision. We now have about 120 families in our congregation and 80 children enrolled in our religious school in grades pre-K through 11.
Fri, December 8 2023
25 Kislev 5784
it's BCRC's 25th Anniversary
This year our 'house of friends' is celebrating our 25th anniversary by returning to a full schedule of events where adults, kids and families can get together. Please consider a special 25th anniversary donation to your house of friends (click donate above).
BCRC Silent Auction
Join the BCRC community to help us meet our end of year fundraising campaign through this fun, interactive, online and in-person silent auction. Our goal is to raise $5000 for synagogue improvements- continuing to work towards renovations to have a welcoming and beautiful space.

We are so grateful to all of the amazing BCRC members and community members who have donated their talents, skills, items and opportunities for you to bid on. Take a look and start your bidding for Chanukah gifts, unique opportunities, and ways to pamper yourself.
Please use a fun anonymous name and don't worry about outbidding your friends- the goal is to raise a lot of money! Online bidding will stay open through December 6, 2023. For more information, contact Julia Schneider at executivevp@bcrcva.org. Click here to bid now!
Upcoming events
Today's Calendar
---
Tomorrow's Calendar
---
This week's Torah portion is

Parashat Vayeishev
Hanukkah
View Calendar
Contact Us!
Beth Chaverim Reform Congregation
21740 Beaumeade Circle, Suite 100
Ashburn, VA 20147
(703) 729-1659
office@bcrcva.org
Fri, December 8 2023 25 Kislev 5784