Helper Family Instructions
Helper Family Instructions
Since we are offering the chance to choose a date that is convenient for your family and reducing the number of times you will be needed, you will be expected to stay throughout the service and helping to set up and clean up. Here's a summary of your tasks:
Bring item you signed up to bring for Oneg. Bring enough to serve about 20 people. For the 2017-18 schedule, please click here.
Arrive 1/2 hour before service. Please put on your name tag so people who don't know you will know who you are.
Check to see that the kiddush is set up on the bimah or on the table in the library. There should be a Challah tray with two challot and challah cover; 1 bottle of Manishewitz wine; 1 kiddush cup; two candle sticks with two Shabbat candles unlit. These items will normally already be set up when you arrive. If not already set up,they are kept in the copy room in the cabinet above the sink labelled 'Kiddush Set-Up'.
Help to greet arriving congregants.
You may be asked to perform an honor such as lighting candles, opening the ark, holding Kiddush cup or holding the challah.
After the service, return the Kiddush items that were set up for (Kiddush cup, candle sticks, challah tray, etc.) to storage in the labelled cabinet in the copy room. Challah tray and Kiddush cup should be washed and dried, and candle sticks should be clean of wax.
After the Oneg, make sure food items are removed from the Oneg area. Either send them back home, throw them in the trash, or store in the refrigerator wrapped tightly. If the serving dish is synagogue property, make sure it is cleaned in the kitchen.
If there are a lot of crumbs, do some light clean-up so we avoid getting ants. (The cleaning crew will arrive shortly after services to do full cleaning.)
If you have any questions, talk to your Board Greeter. Thank you for performing this important mitzvah!
Thu, July 18 2019
15 Tammuz 5779
BCRC news & Notes
Summer at BCRC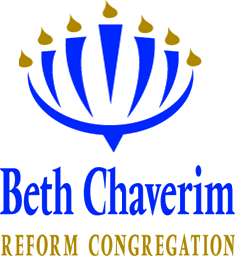 School is out but we still maintain a full schedule at BCRC. Continue to join us for weekly Erev Shabbat services. With the sun setting later, once a month (June 28th, July 26th and August 23rd) we will have an 8 PM start time, so you can enjoy a relaxing Shabbat dinner beforehand. At 6 PM, before the Aug 23 service, we will have a special 55+ and other 'old souls' potluck dinner. And save the date on August 25th for our 'welcome back' picnic. A call for volunteers is coming soon!
Contact Us!
Beth Chaverim Reform Congregation
21740 Beaumeade Circle, Suite 100
Ashburn, VA 20147
(703) 729-1659
office@bcrcva.org
Thu, July 18 2019 15 Tammuz 5779