Curl up with a good book for New Years (by BCRC author David Mendelsohn)
12/28/2017 11:34:40 AM
David Mendelsohn
| | |
| --- | --- |
| Author | |
| Date Added | |
| Automatically create summary | |
| Summary | |
A New Year's resolution might be to treat yourself, or a loved one, to the experience of sitting in a comfortable chair, sipping a glass of wine, or depending on the weather, a cup of hot coffee, and enjoying a good book. A book you may share with others. Some are great for discussion groups and others are fun to read and a valuable learning experience.
I have four stories on Amazon and Kindle. It is easier, when you go on these sites, to include author's name, David Mendelsohn, and book title. The Kindle prices are lower than the paperbacks.
A White Mouse in the White House: A charming fantasy for 3rd and 4th grades. Three young mice have exciting adventures in The White House. Teaches values of honesty, sharing, obeying parents and not judging others based on skin color.
The Journey of Moses and Polaris: Moses' dog, Polaris, narrates their story, from the dog's point of view. From Moses time as a shepherd, through the freeing of the Israelites and their years in the harsh, unforgiving desert until they reach the Promised Land. Have received very positive reviews from children and adults, a Rabbi and Chaplain.
The Message: For adults and teenagers, young women from age 13 and boys from age 16. Controversial subjects dealing with four strong women as they cope with life altering challenges. Issues of near death experience, souls-receiving and disposition, drug rape, abortion positions, the afterlife, and angels.
The Seven Swords of ISIS: An espionage thriller taken from real world events and especially relevant today as one rogue nation is developing capability for germ warfare. Adult book.
Mon, May 20 2019
15 Iyar 5779
BCRC news & Notes
Confirmation Shavuot and Discussion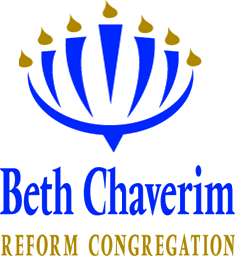 Celebrate our confirmation students and the holiday of Shavuot with a frank conversation about being Jewish in the Loudoun (or Fairfax) schools, on Friday June 7 at 7 PM. Our confirmands will lead the service and initiate the conversation. Our guests will be Ashley Ellis, Asst. Superintendent for Instruction and Asia Jones, Asst. Superintendent for Pupil Services of LCPS.
Contact Us!
Beth Chaverim Reform Congregation
21740 Beaumeade Circle, Suite 100
Ashburn, VA 20147
(703) 729-1659
office@bcrcva.org
Mon, May 20 2019 15 Iyar 5779