Usher Instructions
Usher Instructions
Arrive 1/2 hour before service. (Note: The Gold kippot (yarmulkas) in the drawer below the prayer books serves to identify you as the usher. Please wear when ushering.) Please also wear your name tag.
The Usher is the first official representative from BCRC that meets our guests. The Usher should be pleasant, courteous, and especially welcoming.
Hand out, or show, where prayer books, kippot, and tallits are available.
Encourage people to sit near the front.
Assist latecomers with obtaining books, etc., seating, and point out the page.
BCRC policy is that one should refrain from entering or leaving the sanctuary when the congregation is standing. (Medical or need to use the bathrooms are of course exceptions.)
Ushers should only politely REQUEST adherence to this policy.
During the torah service the older school children will assist in distributing and later collecting torah reading books. (However you may have to help or remind them to start giving out the torah reading books when the torahs have been removed from the ark.)
Books must not be placed on the floor. You may have to gently ask someone to remove the book from the floor, as they are unaware.
Following the service prayer books need to be replaced on the shelves. The older school children will probably do most of this.
That's about it! You will find this is a pleasant duty and a good way to take part in a Shabbat service. Thank you for performing this important mitzvah!
Thu, July 18 2019
15 Tammuz 5779
BCRC news & Notes
Summer at BCRC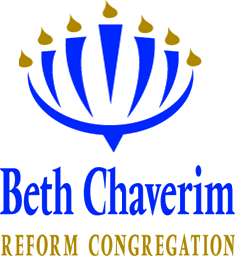 School is out but we still maintain a full schedule at BCRC. Continue to join us for weekly Erev Shabbat services. With the sun setting later, once a month (June 28th, July 26th and August 23rd) we will have an 8 PM start time, so you can enjoy a relaxing Shabbat dinner beforehand. At 6 PM, before the Aug 23 service, we will have a special 55+ and other 'old souls' potluck dinner. And save the date on August 25th for our 'welcome back' picnic. A call for volunteers is coming soon!
Contact Us!
Beth Chaverim Reform Congregation
21740 Beaumeade Circle, Suite 100
Ashburn, VA 20147
(703) 729-1659
office@bcrcva.org
Thu, July 18 2019 15 Tammuz 5779