Belmont Slave Cemetery Freedom Celebration 2017
Belmont Slave Cemetery Freedom Celebration 2017
11/14/2017 08:59:30 AM
Seth Leventhal
| | |
| --- | --- |
| Author | |
| Date Added | |
| Automatically create summary | |
| Summary | |
On Sunday Nov. 12, Seth and Jackie Leventhal represented BCRC at the annual oral history walking tour and wreath laying ceremony at the Belmont Slave Cemetery
located across RT 7 from Landsdowne, sponsored by the Loudoun Freedom Center. Did you know that this slave cemetery existed right in the middle of our neighborhood? As we learned on the historic walk, Landsdowne is on the grounds of the old Coton Plantation, owned in the pre-Civil War days by Thomas Ludwell Lee. His cousin Ludwell Lee owned the Belmont plantation, across the Leesburg Pike. One of their descendants wrote in a journal about a slave cemetery (pictured). Before developers could pave it over and put up a housing development or shopping center, the Freedom Center was able to obtain the
deed to the site.
Prior to the historic walk Sunday, a number of speakers talked about the slave cemetery. Dr. Blakey and his Anthropology team from the College of William and Mary talked about the kind of things you can learn from these sites, from the artifacts, ruins, and even from remains of the people buried there. They are assisting on this restoration project. State Senator Jennifer Wexton spoke about how we have memorialized Civil War gravesites for many years - there are 214 just in Virginia! But we have just started recognizing slave cemeteries, and she plans to work to add this site to the historic registry.
At the burial site, a moving wreath laying ceremony was held, with music from the
Dominion High School choir, prayers, poetry written by a local student, and a military presentation by the Leesburg Civil Air Patrol fife and drum corps. The event coordinators described how with the help of all their supporters and local public officials, plans are underway to restore the site with historic markers, and a local Boy Scout talked abut how he is planning an Eagle Scout project to build a trail so that people can walk to and from the site. This is an annual event so think about joining us next year! For now, be sure to check out the full photo album on our web site.
Fri, May 25 2018
11 Sivan 5778
Featured Events
Congratulations to our Confirmation Class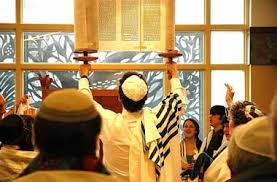 On Friday May 18, we will be holding a special Confirmation Shavuot Erev Shabbat service. Our confirmation class would greatly appreciate it if you could join them on their special evening as they confirm their commitment to Judaism and to Jewish life. Did you know that the ceremony of Confirmation was introduced by Reform Judaism? It was first done in the early part of 19th century in Europe and was brought to the United States about mid-century. It is typically held in conjunction with the festival of Shavuot, because of its association with giving of Torah. We hope to see you there!
Contact Us!
Beth Chaverim Reform Congregation
21740 Beaumeade Circle, Suite 100
Ashburn, VA 20147
(703) 729-1659
office@bcrcva.org
Fri, May 25 2018 11 Sivan 5778