Committees
Committees
Because our congregation is powered by volunteers, we use several committees to manage activities and make decisions for our congregation. Get involved!
Caring: Provides support and caring for members of the congregation in times of need. Coordinator: Cheryl Suitor
Communications: Responsible for all internal and external communications, including weekly email blast, bi-monthly Bulletin, social media, website and advertising. Vice President: Brian Giblin
Community Events: Coordinates all groups who plan and execute events that build community at BCRC - Brotherhood, Sisterhood, Youth, Social and Tikva. Vice President: Amy Steil
Education: Seeks to provide meaningful Jewish insight and education at all levels of learning, including our religious school and a wide variety of adult education offerings. Vice President: Cindy Mayer
Facilities: Maintains our building and grounds. Vice President: Neil Frank
Finance: Administers the congregational finances, including dues and tuition collection, as well as fundraising for the congregation. Vice President: TBD
High Holy Days: Works with the Worship Committee to insure the success of the High Holiday services including seating, security, ushering, honors, logistics and general programming. Chair: TBD
Membership: Engages in outreach to prospective members; assists new members in making personal connections in our community; collaborate with programming committees; works to encourage member participation in services, programs, and activities; and addresses member satisfaction to facilitate membership retention. Vice President: Heather Kern
Mutual Review Committee: Meets with Rabbi to discuss what the congregation and Rabbi are doing right, and just as importantly, where there is room for improvement. Chair: Larry Deigh
Nominating Committee: Develops the annual slate of officers and board members for approval by the membership and fills in leadership vacancies as needed. Chair: Open (will be filled in 2016)
Tikva: Responsible for interfaith activities and the Tikva fund. Chair: Ray Daffner
Worship: Dedicated to providing a spiritual home in which you and your family may worship, learn, and grow as you participate in Reform Jewish practices and observances by planning all worship and spiritual activities. Vice President: Brian Freed
Youth: Responsible for youth activities within the congregation and coordination of participation of temple youth in regional events. Includes CHAVTY (Advisor: Rachel Silien); Junior CHAVTY (Advisor: TBD) and Mini CHAVTY (Advisor: TBD).
For more information on each of our committees, or to volunteer, please contact the appropriate Board member or committee chair.
Mon, May 20 2019
15 Iyar 5779
BCRC news & Notes
Confirmation Shavuot and Discussion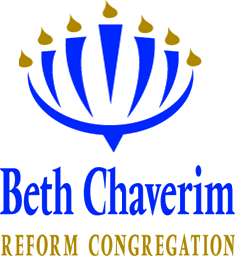 Celebrate our confirmation students and the holiday of Shavuot with a frank conversation about being Jewish in the Loudoun (or Fairfax) schools, on Friday June 7 at 7 PM. Our confirmands will lead the service and initiate the conversation. Our guests will be Ashley Ellis, Asst. Superintendent for Instruction and Asia Jones, Asst. Superintendent for Pupil Services of LCPS.
Contact Us!
Beth Chaverim Reform Congregation
21740 Beaumeade Circle, Suite 100
Ashburn, VA 20147
(703) 729-1659
office@bcrcva.org
Mon, May 20 2019 15 Iyar 5779