Chanukah Pre-neg/Oneg
Friday, December 7, 2018 • 29 Kislev 5779
7:00 PM - 7:30 PM
Bring your Menorah and candles for a group Chanukah candle lighting!
Share Print Save To My Calendar
Sun, December 9 2018
1 Tevet 5779
BCRC News and Notes
BCRC Chanukah Happenings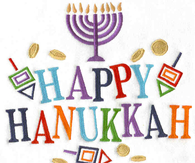 We have some great Chanukah celebrations coming up at BCRC! We will be having a special Chanukah-themed Tot Shabbat, followed by our annual congregational menorah lighting which will illuminate our "New Member" Pre-neg/Oneg prior to Erev Shabbat services. This event will be flavored with traditional Chanukah foods such as latkes and jelly filled doughnuts. And that's not all! Our annual Chanukah party will feature crafts, games, LATKES, music, and more! And of course, pizza lunch available purchase. See our calendar for dates and times.
Contact Us!
Beth Chaverim Reform Congregation
21740 Beaumeade Circle, Suite 100
Ashburn, VA 20147
(703) 729-1659
office@bcrcva.org
Sun, December 9 2018 1 Tevet 5779